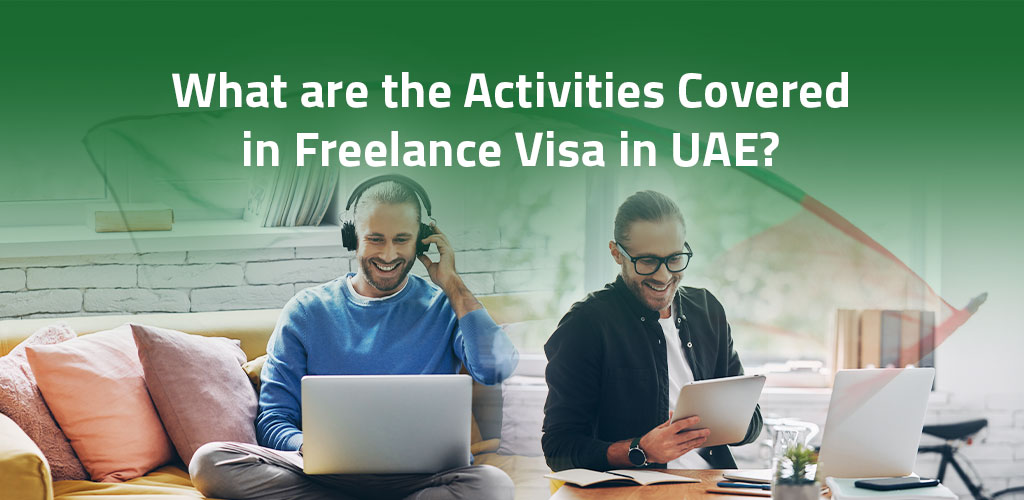 Are you a freelancer looking for a visa that will allow you to work in the UAE? If so, you've come to the right place. In this blog post, we'll go over the different freelance visa options that are available in the UAE and talk about the benefits of working as a freelancer in the country. We'll also provide a list of documents that you will need to apply for a visa, as well as details on the freelance visa requirements in the UAE.
How to Get a Freelance Visa in the UAE?
Freelancing can be a great way to make a bit of extra money, and in the UAE, it's especially popular. But before you can start freelancing, you need to get a visa. There are a variety of visas available, so it's important to choose the right one for your needs. Once you've applied and been approved. Remember to keep copies of all work agreements and contracts with your clients just in case something arises down the line. Freelancing is a great way to gain experience and build a portfolio, so it's worth exploring.
What Are the Activities for Which A Freelancer Visa can be Issued?
Freelancing can be a great way to make some extra money, and the visa process in the UAE is straightforward and easy to follow. The visa requirements are typically only two years of work experience within the past five years, and applicants must demonstrate an ability to financially support themselves during their stay.
Additionally, activities that can be covered under a freelance visa in the UAE include tutoring, writing, designing, and online marketing. The process for obtaining a visa is straightforward and takes about four weeks on average from start to finish. So, if you're thinking of freelancing in the UAE, make sure to check out the visa requirements first.
Which documents do you need for your freelance visa application?
Freelance visas in the UAE are a great way for foreigners to work in the country without having to get a resident visa. However, before applying, it is important to be aware of the requirements and documents. Here is a list of the common freelance visa activities and the corresponding documents you will need to submit with your visa application:
Completed visa application form
Passport-sized photos
Evidence that you have the financial means to support yourself while in the UAE, such as a recent bank statement or a business plan
Evidence of your qualifications, such as a resume or business plan
1. Technology
Technology has become a major part of our lives and there is no doubt that freelance professionals play a vital role in the development and advancement of this sector. However, before freelancing can be an effective career choice, you need to understand some important facets of visa regulations surrounding technology work.
Freelance visas are typically granted for six-month to one-year durations, depending on your skills and experience. You will need to provide evidence of your abilities as well as proof that all the work you carry out is under the guidance of an authorized individual or organization. Make sure you only freelance with registered organizations so that any disputes can be easily sorted out should they arise.
2. Education
There are a few things you need to consider before applying for a freelance visa in the UAE. First and foremost, make sure that you have the required qualifications – usually, education and experience will suffice, but there are certain cases where additional requirements may apply.
Additionally, keep all your documents ready. These include a passport photo, a copy of your degree or work certificate (if applicable), proof of residency, etc. If freelancing is the right career move for you and the opportunity suits your skill set perfectly, start it. Make sure you have everything ready beforehand so that no delays occur during the application process.
3. Designing
Designers need to have a portfolio that showcases their skills and demonstrates the feasibility of the fees they will charge for freelance services. In addition, it is important to get references from people who can vouch for your abilities before applying for a visa permit in the UAE. The best way to do this is by submitting quotes for similar projects you have completed in the past. Finally, make sure to stay up to date with current industry trends. It ensures that you deliver top-quality work each time.
What are the Benefits of Working as a Freelancer in the UAE?
Freelancing offers a lot of benefits that regular full-time employment just can't touch. For example, you can work from anywhere you want, set your own hours, and make your own schedule. Plus, the high demand for freelance talent in the UAE means that you can earn a high income. Some of the benefits of freelancing in UAE include
The freedom to work from a home office
It also has the ability to freelance in a variety of fields
The opportunity to work with a wide range of clients.
After reading this blog, you will know everything you need to know about freelance visas in the UAE. From the different visa options to the benefits of freelancing in the country, we have covered it all. So, what are you waiting for? Start preparing your freelance visa application today and start exploring the immense opportunities that UAE has to offer.