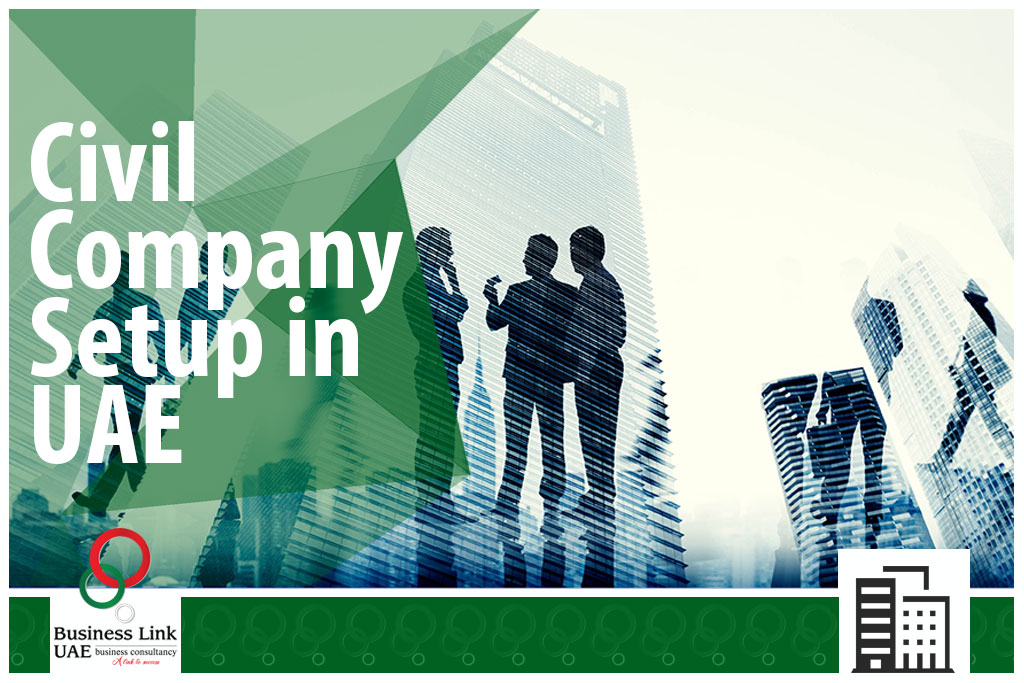 Civil Company Formation
Civil Company Setup in UAE
Civil Company Setup in Dubai Some Basic Things You Need to know
UAE's business-friendly environment attracts investment from all around the world. Free zone companies and limited liability companies are some of the most popular types of company formation investors/entrepreneurs opt for.
With free zone business setup, you can set up your company in one of the many free zones in UAE and also benefit from zero corporate and personal tax rates and enjoy 100% foreign ownership and 100% repatriation of profits. While with an LLC, you can set up a company in UAE mainland and enjoy full access to the local UAE market – which is something free zone business setup doesn't offer. The only catch is that you'll have to hand over a 51% stake in your company to a local sponsor.
Other than the above, there's another type of company formation in UAE and that is civil company formation.
Why Start Civil Company in Dubai, UAE?
Civil company formation is a type of company formation which offers 100% foreign ownership and full access to UAE's local market but also involves unlimited liability. Civil companies, also commonly known as professional companies, can be set up by investors/entrepreneurs who provide professional services in specialist sectors such as doctors, lawyers, engineers, accountants, and consultants.
A civil company is established as an association wherein two or more professionals, holding professional qualifications in their field of expertise, agree to carry out professional/consultancy activities and also be liable to third parties against payment of consideration.
While with Civil company set up in UAE, companies can benefit from 100% foreign ownership, teaming up with a Dubai Local Service Agent (LSA) is still required to trade from the mainland. Local Service Agents (LSAs) do not hold a stake in your company, unlike local sponsors. The role of LSAs is to liaise with the governmental departments on your behalf and assist you with all the legal procedures such as getting your license approved, processing work permits and visa applications, etc. The local service agent is paid an agreed fee and does not have a percentage of company profits to assist you with the above-mentioned tasks.
Benefits of Setting up a Civil Company in Dubai, UAE:
Like any other business set up in UAE, opening a civil company in UAE also comes with multiple benefits. Following are some major benefits that come with the civil company set up in UAE:
The best part about civil company formation in the UAE is that it offers a super-quick and easy setup. The new initiatives have made the process so quick and easy that your company could be registered with the Department of Economic Development (DED) within just 90 minutes, given you meet the eligibility requirements.
The total startup cost is relatively low and the process doesn't even require you to deposit paid upfront share capital when registering a civil company in UAE.
The civil company set up in UAE lets you enjoy 100% foreign ownership while also not forcing you to partner with a local sponsor.
Civil company formation is an ideal type of company formation for larger organizations as it lets the organization apply for multiple visas and also gives the option to sponsor dependants.
With civil company formation, it's also quick and much easier to set up a corporate bank account in UAE
Team up with Business Link UAE to Setup Your Civil Company in Dubai:
To take advantage of the benefits that come with civil company setup, entrepreneurs and investors should team up with a reputable Business Setup Consultancy in Dubai to help them acquire the right licenses and operate efficiently.
At Business Link UAE, we have the best Business setup consultants in Dubai who know how to make the process of business setup in Dubai a breeze for both, seasoned and aspiring entrepreneurs. From helping you apply for the right license to creating a feasibility study and a business plan, our reputable business consultants will help you at each and every step of starting a civil company in UAE.
To know more about the process of starting a civil company in UAE and how you can benefit from it, give our expert business consultants a call at +971 43215228 or email us at info@businesslinkuae.com