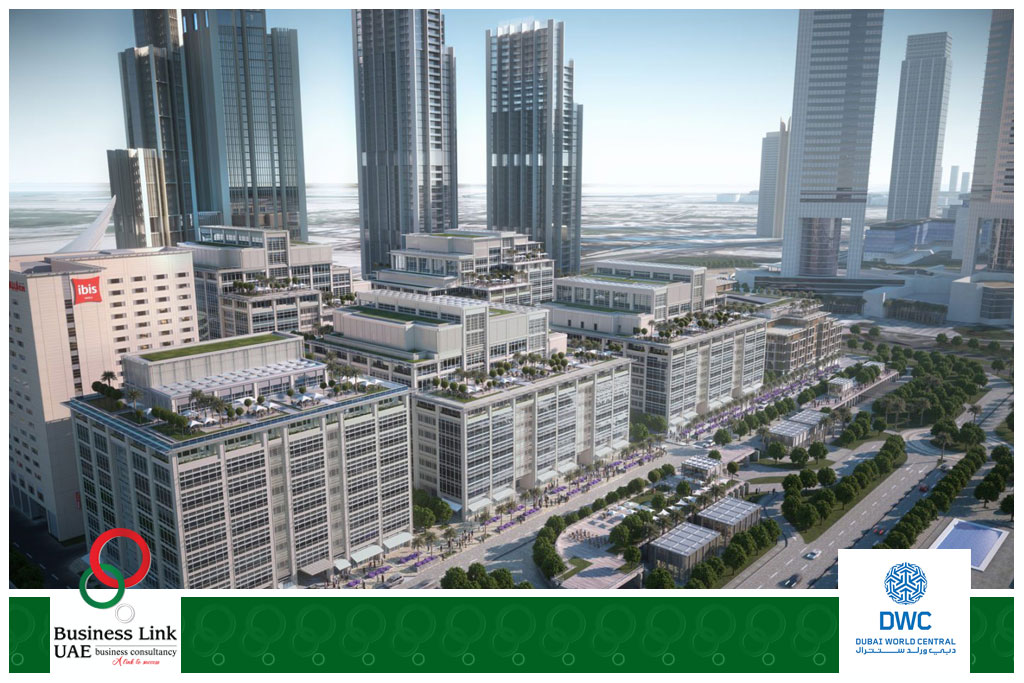 Dubai World Central free zone is a multi-dimensional zone for setting up your business near the largest international airport. Developed on the dream sight of Sheikh Mohammed bin Rashid Al Maktoum. The master structure of DWC includes various districts such as the residential district, commercial district, logistics district, The AL Maktoum International Airport, exhibition district, humanitarian district, golf district, and aviation district.
With the government supporting so many projects. DWC turns to be an of its kind and ambitious initiative of the government in the free zones. The aviation, logistics, and humanitarian districts are subject to a lot of benefits. While the exhibition district accounts for cost-effective investment due to its proximity to the international airport and great connectivity between the East and the West. Also, the residential and accommodation districts allow the option to settle in the city or a convenient option if your business involves frequent traveling.
The center location of DWC in Dubai South Headquarters provides for a quick and easy DWC Business Setup. There is also the facility for shared office space in case of entrepreneurs not looking for a permanent business setup. These type of added benefits accounts for the ideal place of business setup in Dubai South. The design of the DWC free zone is huge and can cover around a million population. This is a financial platform of immense opportunities where all kinds of business and trading activities are supported.
Advantages of Business Setup in Dubai World Central
DWC is a strategic location where different ports and airports are highly accessible.
First-class free zone in Dubai to have access to the emerging economies of the world.
100% ownership on the Business Setup in Dubai World Central.
Flexible office setups such as shared desks, shared offices, offices on a lease, etc.
Wide range of business options such as retails, consultancy services, food services, beauty parlors, etc.
Comparatively fewer restrictions on the aspect of ownership, visas, and local sponsorship.
Types of licenses in DWC Company Setup
Trade License– This license is for enabling the import, export, and distribution of the goods mentioned on such license.
Industrial License– Industrial license is for the permission to carry out manufacturing activities by employing both manual labor and machinery. For acquiring this license, one has to prove that environment impact surveys have been conducted on their industrial undertaking.
Logistics License– Logistics license allows for the execution of specific logistics services such as storage, transportation, distribution, sorting, inventory management, etc.)
Service License– This license allows you to provide certain services as mentioned in the license and only in the vicinity of the DWC zone. These services can also be allowed in other UAE zones but you have to get an additional local license of that jurisdiction.
Business Link UAE is a company that provides excellent services for company formation. To know more about the company setup Services in UAE, reach out to us.