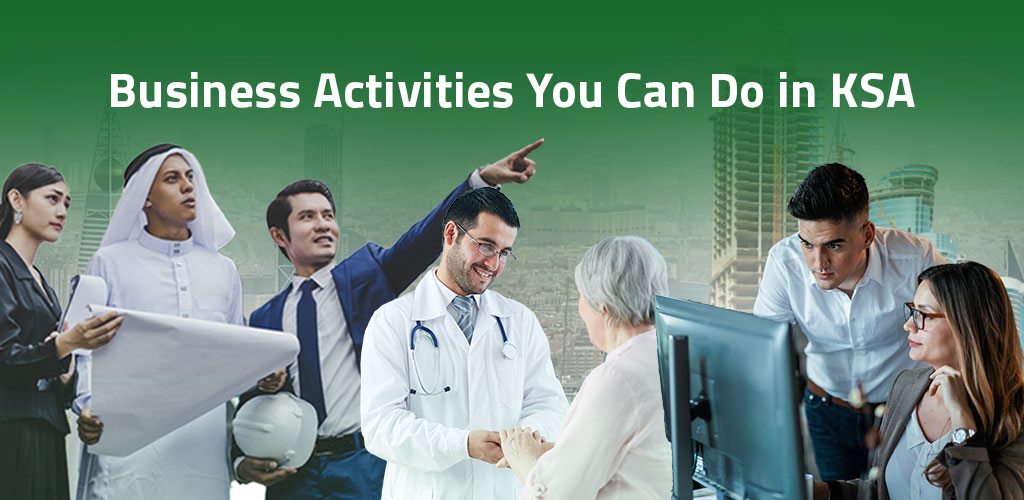 Saudi Arabia takes pride in having a growing economy and a wealth of business opportunities. Especially with the recently announced Vision 2030 aims. And KSA's plans to diversify from an oil-dependent economy. 
Whether you are a local entrepreneur or a foreign investor, there are several lucrative business activities you can engage in to succeed in the KSA market. In this blog, we'll explore the best five activities you can choose as a business setup in KSA.
Saudi Arabia has a thriving trading culture, enabling it to position itself as a hub for international trade. Thanks to its strategic location at the crossroads of Europe, Asia, and Africa, the KSA offers a wealth of opportunities for businesses involved in trading. The country's ports and airports are modern and well-equipped, making importing and exporting goods easy. 
The KSA government has also implemented various initiatives to ease trade procedures, such as digitalizing customs and simplifying licensing processes.
The real estate market in KSA is one of the most attractive sectors for investment. There is a high demand for residential and commercial properties, and the government has launched several initiatives to encourage investment. 
Investors benefit from tax incentives, simplified processes for obtaining property ownership, and access to Saudi Industrial Development Fund funding. KSA also offers many projects, such as smart cities, infrastructure development, and renewable energy projects. These create more business opportunities in the real estate sector, making real estate a profitable business setup in KSA. 
KSA is home to some of the world's most popular tourist attractions, including the holy cities of Mecca and Medina, the Red Sea coast, and historical sites such as the Nabatean ruins of Madain Saleh. 
The government has launched several initiatives to promote tourism in the country, such as opening up new sites, improving infrastructure, and launching visa programs for tourists from different countries. This has created a significant demand for tourism-related businesses such as hotels, restaurants, and tour operators. It is crucial to note that different activities under tourism require different tourism licenses. Before applying for one, it is best to check with expert PRO services.
The IT sector in Saudi Arabia is rapidly growing, thanks to a large and tech-savvy population. The government has invested heavily in developing the country's digital infrastructure and has provided various incentives to attract investors in the IT sector. There is a high demand for IT services such as software development, cybersecurity, and e-commerce. 
In addition, the KSA government has launched several initiatives to promote digital transformation in all sectors of the economy, creating a vast array of opportunities for technology companies.
KSA has a diverse and expanding manufacturing sector, with a particular focus on petrochemicals, plastics, and metals. The government has established industrial cities and free zones to encourage manufacturing and provide investors with attractive incentives. KSA offers various investment opportunities in the manufacturing sector, such as food processing, pharmaceuticals, and construction materials. 
Furthermore, the KSA government has launched several initiatives, including the National Industrial Development and Logistics Program. To promote the country's manufacturing sector and attract foreign investors to encourage more business setup in KSA. 
Conclusion 
In conclusion, the KSA market offers various business opportunities across different sectors, from trading to manufacturing. Saudi Arabia's government is making significant efforts to promote economic growth and attract investment, creating an enabling environment for entrepreneurs and investors. By exploring and engaging in these best five business activities, you can tap into the potential of the KSA market and achieve your business goals.