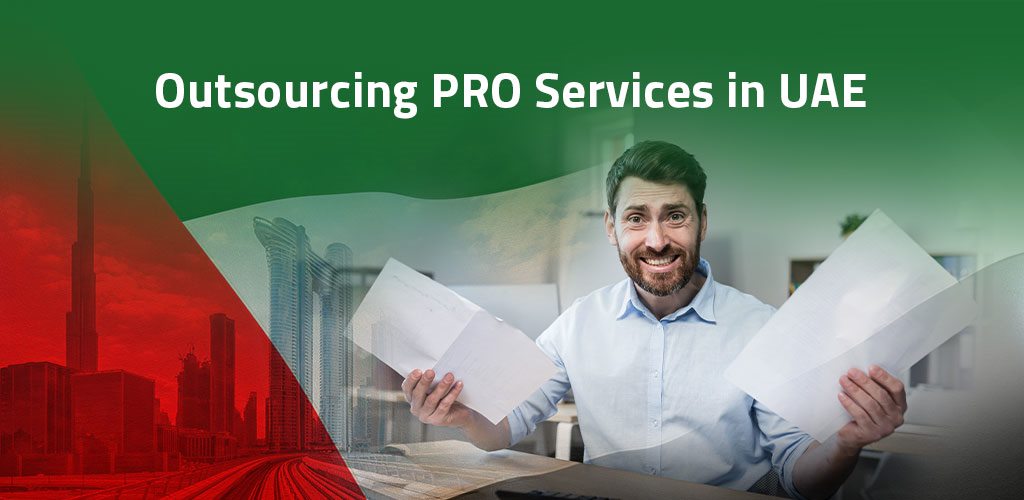 .Dubai is home to thriving start-ups and an increasingly strong business network. This is especially due to cheap taxation, ease of business, powerful infrastructure, and other factors. Establishing a firm in Dubai is a highly profitable alternative for both entrepreneurs and foreign investors. 
Nevertheless, entrepreneurs require the assistance of PRO services in the UAE to negotiate the bureaucracy, rules, and obligations on their side. Initially, most business owners hire an in-house Public Relations Officer (PRO). However, they need to realize how costly that is compared to outsourcing PRO services. 
In the following blog, we will learn how outsourcing PRO services in Dubai is a good step for entrepreneurs and businesses. 
The Role of PRO services
A skilled team of PROs can help with all pre-employment and post-employment obligations pertaining to the Ministry of Labor and Immigration Department. They can also advise you on best practices and provide help to ensure a smooth and trouble-free process.
Why Do Businesses Need PRO Services?
To begin with, many of the actions that comprise PRO services are legal requirements for all businesses and employees. Ensuring that the processes are correct and on time decreases the possibility of penalties or other negative effects on the business.
Regardless of the obvious legal implications, failing to carry out these actions might have a negative influence on a variety of various elements outside of the organization. To work lawfully in the UAE, for example, every employee must receive a residence visa and a work permit. It is also crucial to create a bank account, sign a residential lease, connect to utilities such as electricity, and obtain an identity card.
Most Common Services:
Resident and Employee Visas

Labor and Immigration Cards

Labor Quota Applications

Investor Visas, Family Visas, Golden Visas, etc 

Offshore & Security Passes (CICPA) 

Emirates ID Cards 

Company and Branch Formation

Annual Licence Renewals and Updates

Trade Licence Changes and Transfers

Regulatory Approvals and NOC Letters

Document Attestation and Translations 
Benefits of outsourcing PRO services:
You can avoid the high costs of hiring an in-house PRO by outsourcing PRO Services in the UAE.  The prices you must pay for PRO firms in Dubai are significantly lower than the costs of hiring an in-house PRO. A PRO firm can save you money on employee salaries, gratuities, leave fees, transportation, and other charges. 
On the other hand, when outsourcing PRO services, you only need to pay for the services you demand. You will also gain access to a highly skilled and qualified team of PRO professionals who can deliver services quickly.
Time-efficient and Timely Updates
PRO firms provide up-to-date, accurate, and fast information on the necessary government procedural requirements. You can be certain to get all essential updates published by the government. The timely release of pertinent information will assist you in meeting all legal requirements.
A reputable PRO service provider in the UAE provides you with all of the particular stages, requirements, and dates for each process and will discuss them with you well in advance. Aside from that, the PRO firms will provide you with all of the relevant prices involved with the service, such as the government fee and professional charges. Transparency is ensured when you receive regular updates on the status of the job.
The most significant advantage of employing PRO firms is that you may receive tailor-made packages that meet your specific needs. The scope of work can expand as your company grows or downsize as you strive.
The best PRO businesses in the UAE will appoint a client coordinator to handle our company's demands. A specialized coordinator will ensure that your time is spent efficiently on important tasks like getting permits, employee visas, and other business and licensing papers. Leading professional services firms use highly skilled and experienced coordinators who will ensure that all procedures are followed up on with frequent reminders and updates.
Accessible throughout the UAE
The top PRO firms will provide services throughout the UAE in all seven emirates. Aside from that, they will be able to deliver PRO services in all of the UAE's 40 free active free zones. 
They can ensure complete coverage throughout the UAE. As they are experienced and have established solid working relationships with the mainland authorities, free zone authorities, and other government bodies. You can use PRO services as a one-stop destination to suit the needs of various firms and branches across the UAE.