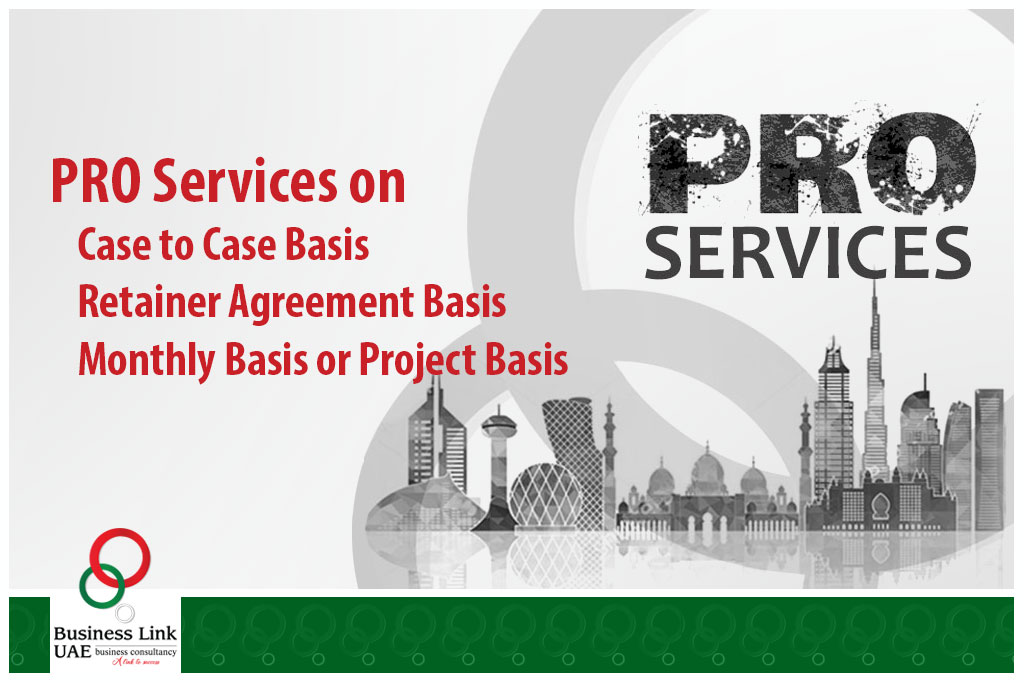 PRO Services
PRO Services in Dubai
PRO Services on Case to Case Basis
PRO Services on Retainer Agreement Basis
PRO Services on Monthly Basis or Project Basis
PRO services in Dubai requires professional expertise who can successfully manage the whole cycle of procedures and formalities. Company formation in Dubai has a number of predefined procedures and cycles. An expert is required to guide you through these multiple stages and helps you complete all the hard paperwork successfully. Business Link UAE assists businesses through all the business setup stages with our wide array of PRO services in Dubai and document clearing services. As our work closely depends on networking with the Dubai government and officials of various ministries, we are known far and wide as providers of the most-efficient PRO Services in Dubai. Ultimately, you benefit from our PRO services in Dubai in terms of time spent as part of queues in government offices as well as money.
PRO Services in Dubai play an important role when you want passport clearance, resident and employee visa, business licenses, labor and immigration cards, trademarks, copyrights, company and branch formation, approval and renewal of trade license, emirate ID card, regulatory approvals, NOC letters, and certification. The PRO services of Business Link UAE ensure that clients are given maximum support for their smooth stay and business in the UAE.
Being the best business consultants in Dubai, our company harbors experts that are skilled at the various formalities laid out by the Dubai Mainland laws and UAE Free Zone regulations. As our work is dependent on government authorities, our strong ties with them facilitate quicker document clearances, labor contract creation, license renewal, immigration card for our clients. Besides this, we assist in getting approvals from the UAE ministries, Chamber of Commerce and Foreign Affairs.
PRO Services for Company Formation
While setting up a business in Dubai, one has to go through many hurdles. It has a number of steps like getting approvals from Immigration and Labor Ministries, licensing and registration, actual or virtual office setup as well as opening a corporate bank account and so on. Business Link UAE helps in the successful setup of business in Dubai by completing the standard procedures and getting the necessary approvals from the UAE government authorities. With our typing and legal attestation services, rest assured that employee visas and labor cards can be processed in the quickest of time.
Besides, we also assist in changing trade names of the company, drafting of Memorandum and Articles of Association, making amends to the existing Memorandum or Articles and increasing or decreasing paid up capital.
Advantages of PRO Services
PRO services in UAE look to offer numerous advantages for any individual in starting a new life or building a new company in the country. With an abundance of PRO companies in Dubai also capable of accommodating your needs wherever you are in the UAE, you can have yourself enjoying these benefits:
Compliance
As a foreigner, you may face difficulties in understanding and comply with the local laws and properly documenting your papers. UAE holds very stringent policies which can seem very unfavorable for expats in the country. This is why hiring PRO services will help you most, especially in regards to PRO visa services in Dubai.
Time
Having a local PRO company in aiding your setup in UAE will undoubtedly aid you in facilitating the time required to start running a business. By utilizing PRO services, your company incorporation processes will be eased exponentially so that you are able to focus on other operating processes of the business during the meantime.
Expenses & Longevity
Without PRO services, you will be looking at budget deficits which could eat at your wallet more than what you had planned for. If you are looking to cut out the losses, having a trusted PRO companion will provide you with professional pieces of advice on how to best utilize your resources in the early phases. By having a trusted PRO provider assisting you, your business and personal stay in the country will be safeguarded in the long-run.
We are dealing with all UAE legal authorities and closely work with them for processing required applications and taking approvals if required.
Some of them are as:
Dubai Economic Department (DED)
Company Trade Name Reservation
Memorandum of Association Typing – Notarization
Power of Attorney Attestation
Dubai Municipality Approval
Environment Department Approval
Ministry of Health Approval, Requirements
Amer Services Dubai, VIP Medical, 24 Hours Medical, Normal Medical, Emirates ID, Resident Visa Stamping, Hold Resident Visa
Legal Translation, Legal Attestation, Certificate Attestation, Married Certificate, Birth Certificate Attestation
Dubai Immigration, Immigration Establishment Card
Dubai Labor Office, Labor Office Inspection, License Update, UAE Labor Law, Labor Complain
House Ejaree for Family Visa
Office Ejaree for License Renewal
Abu Dhabi License – Dubai License – AUQ License – Sharjah License – Ajman License
Corporate Sponsor – Branch of Foreign Company Setup
Emirates ID Authority
UAE Ministry of Foreign Affairs & International Cooperation
Dubai Courts
Dubai Civil Defense
DED Initial Approval Requirements
DED Special Approval Requirements
Dubai Notary Republic Attestation
Embassy Documents Attestations
Civil Defense Approval
Dubai Municipality Planning Department Approval
KHD Approval, Requirements
Tasheel Services in Dubai, Employment Visas, Labor Contract, Labour Work Permit, Lady on Husband Visa, Labor Card
Business Consultant – PRO Services – Documents Clearing – Local Sponsor – Local Sleeping Partner – Local Service Agent – Company Liquidation – Trade Mark Registration
Amendment of Memorandum of Association Typing – Notarization
Nanny Visa – Workers Visa – Mother Visa – Family Visa – Father Visa – Wife Visa
Office Ejaree for New License
Business Center Ejaree
Tesheel, Tadbeer, Tawjeeh, Amer Centres for Typing Visa Application, Emirates ID, Medical Insurance for Investors, Individuals, Family & Maid Visa etc.
Ministry of Labour
Dubai Chamber of Commerce & Industry
Ministry of Health, Education & Finance
Dubai Municipality
Dubai Land Department