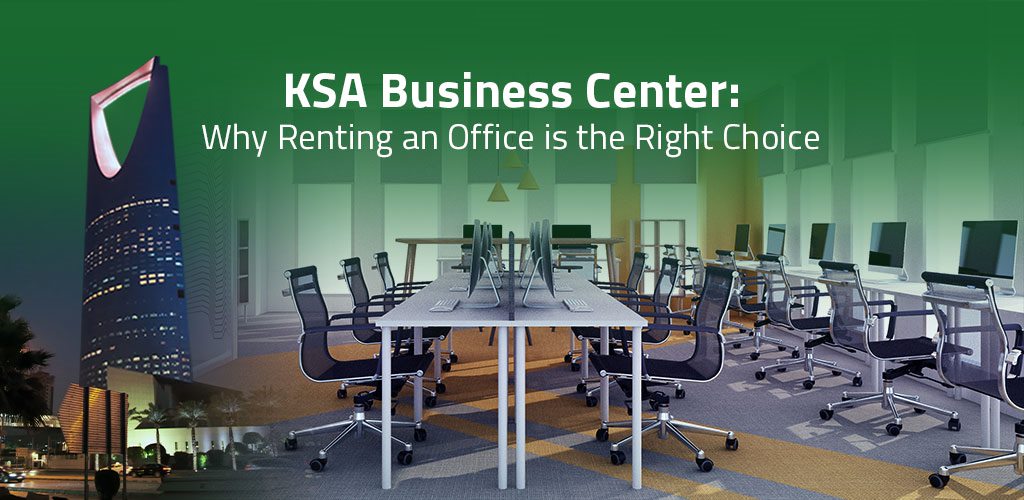 What is renting an office? 
Renting office space refers to leasing a physical workspace in a business center for a specified period. This space can range from a small private office for one or two people to a large shared office for several employees.  
An office for rent in Saudi Arabia is typically equipped with basic amenities. Such as furniture, internet connection, utilities, and shared facilities, such as restrooms, kitchens, and meeting rooms.
Renting an office in KSA can be a viable option for businesses of all sizes, as it provides a professional and dedicated workspace without the need to invest in a property. It can also offer flexibility in terms of lease duration, allowing businesses to expand or downsize as needed. 
Additionally, renting an office space can provide access to networking opportunities and a range of support services. These can include administrative support, IT infrastructure, and security, which may not be feasible to set up on your own.
There are several reasons why renting an office in a business center in Saudi Arabia can be a good option for businesses:
Convenient Location:

Business centers are often prime locations, with easy access to transportation and amenities. Such as restaurants, cafes, and shops.

Cost-Effective:

An

office for rent in Saudi Arabia

can be more cost-effective than leasing a traditional office space. Business centers often offer fully furnished offices, shared facilities, and services, which can help save on costs associated with setting up an office.

Professional Image:

A business center can provide a professional image for a business. The center's modern and well-equipped office space can create a favorable impression on clients and customers, positively impacting the business.

Flexibility:

Business centers offer a high degree of flexibility regarding office size and lease duration. Businesses can choose from various office sizes and lease terms to suit their needs. This flexibility can be particularly beneficial for small businesses and startups, who may need to scale up or down quickly.

Support Services:

Business centers often provide support services, such as reception and secretarial services, IT support, and meeting rooms. This can help businesses operate more efficiently and productively.

Networking Opportunities:

Business centers can offer networking opportunities and the chance to interact with other businesses and professionals. This can lead to valuable connections and potential collaborations.
Renting options:
There are many options for renting an office in Saudi Arabia, depending on your location, budget, and other preferences. Some of the popular options include:
Business centers:

Business centers are fully serviced office spaces offering various services. These include high-speed internet, meeting rooms, reception services, and more. These are ideal for startups and small businesses requiring a professional work environment.

Co-working spaces:

These are shared office spaces where individuals or companies can collaborate. These are ideal for freelancers, remote workers, and small businesses that want a flexible workspace.

Virtual offices:

Virtual offices provide a professional business address and other services, such as mail handling and phone answering, without needing physical office space. These are ideal for businesses that need a business address but don't require a physical office space.

Traditional office spaces:

These spaces are standalone office spaces that can be rented on a long-term basis. Ideal for established businesses that require a dedicated workspace and don't want to share space with other businesses.
Conclusion
If you are just starting a new business, an office for rent in Saudi Arabia is ideal. Contact our team of business setup consultants, who can assist you in securing a spot at our Business Center in Riyadh. It comes with a variety of specifications to cater to your business's specific needs. 
You can contact us through their website, email, or phone number to inquire about the currently available office spaces.