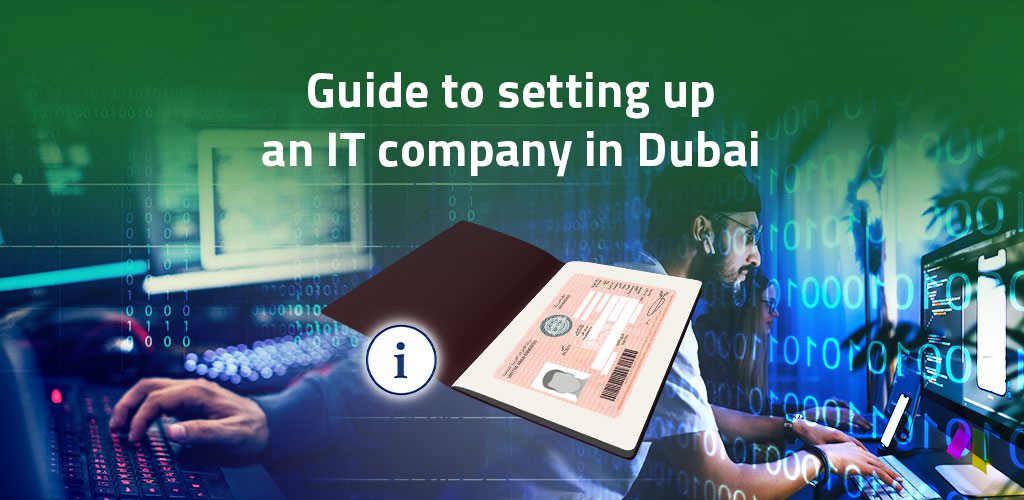 When it comes to technology, it seems like there's always something new to learn. And with businesses increasingly relying on IT for everything from managing their operations to selling products, it's no wonder that so many people are interested in starting their own IT companies. If you're looking to make your mark in the industry, understanding the steps needed to get started is the first step. In this guide, we'll outline all the required information and resources necessary to start an IT company in Dubai and get a UAE visa – from investment opportunities and licensing requirements to practical advice on how to set up a shop.
Which is the best location to start an IT company in Dubai?
When it comes to choosing the best location to set up an IT company in Dubai, it's important to consider a few factors. The city's growing population and high demand for technology services make it a great location for an IT company. Additionally, you'll need to consider the local ecosystem – is there enough talent available? If you're looking for a city that is rapidly growing and is home to a large number of technology-savvy people, Dubai is the place for you!
Investment opportunities for IT companies in Dubai
There's no doubt that Dubai is a hot spot for technology businesses, and that's no surprise given the city's rich history in this field. If you're looking to invest in an IT company in Dubai, there are a variety of options available to you. Additionally, the current climate in the world economy allows investors to grow their investments in this industry. So if you're interested in setting up an IT company in Dubai, it's important to do your research and make the best decision for your business.
Why start an IT company in Dubai?
Is there anything better than starting your own business? The answer is a resounding yes, and that includes starting an IT company in Dubai. Not only is it a great way to make a name for yourself, but the city is also a high-tech hub, which means there is a lot of demand for IT companies. In addition, Dubai has a large population of expatriates and tourists, making it a great business market. There are many resources available to help you get started from consulting your local business center or online resources.
How to start an IT company in Dubai?
The growth of IT companies in Dubai is undeniable. This is thanks to several government initiatives that support the sector. If you're looking to start one, it's important to consider a few factors. You can start from scratch or by relocating an existing business. The most important part of starting a business is finding the right location and staff.
Consult with a local consultant to determine what type of IT company would be best for your needs. There are some government initiatives that support the growth of IT businesses in Dubai, including the E-Government and Information Technology Development Authority (ITDA). So, whether you're looking to establish a new company or expand an existing one, the Dubai IT landscape has everything you need to get started.
Make a formal trade name registration
Before starting your IT company in Dubai, getting a trade name registration is important. This will help you protect your business and give you legal recognition in the UAE. You will need to provide information about the company, directors, etc. Make sure to keep accurate records so you can track your progress over time.
Choosing the right location for your business is essential. In fact, this decision can make or break your company. Before making a final decision, it is important to consider several factors such as country of origin and market conditions. Once you have decided on the chosen country, it's time to start looking for an office space that will meet all your requirements.
If you are planning to set up a digital marketing agency in Dubai, then using services offered by government agencies or other support organizations would be advantageous. Always bear in mind the budget when making such decisions – knowing how much money you can afford to spend without compromising the long-term viability of your company should always be at the forefront of your mind!
Before starting your IT company in Dubai, it is important to do a few things first. Make sure you file the correct paperwork with the government and get all the necessary licenses and permits in place. And of course, start marketing your company – this will be one of your most essential tasks for success!
The application process for a visa
The application process for a visa to start an IT company in Dubai can be quite tedious but it is worth it in the end. Make sure you have everything in order – business plan, financial statements, etc – before starting the application process.
The best time to apply would be during either of the two global migration conferences held every year: GITEX and WCTE. However, don't get discouraged if your company doesn't qualify for visas at first; there are always other ways around any obstacle! Dubai is one of the most advanced places when it comes to technology and companies specializing in technology services; this makes it an ideal place to start or expand an IT company.
Documents required to set up an IT Company in Dubai
Setting up an IT company in Dubai can be a daunting task, but it doesn't have to be. With the help of this guide, you'll be well on your way to starting your own business in the emirate. First and foremost, gather all the required documents. These include an application form, company registration letter, and business license. Make sure to get a copy of your company's logo and trademarked material in advance. After you have all the necessary information, it's time to contact the appropriate authorities to begin setting up your business. Be sure to contact the General Department of Commercial Affairs, Dubai Trade Centre Authority, Dubai Customs, and Dubai Immigration.
Requirements to start an IT Company in Dubai
Starting an IT company in Dubai is not as difficult as it seems. All you need is a valid business license and authorization from the Ministry of Economy, a working visa for the country, and insurance coverage for losses due to fire or theft. Once you have these essentials in place, it's time to get help from industry-leading tools. Business setup consultants can help you set up your company website with clear branding and sleek design and attract customers with a good website.
Professional license for IT company in Dubai
Setting up an IT company in Dubai can be a great way to make a career change or start your own business. There are several requirements to meet before getting this license, including having a business plan and proof of financial stability. Once you have your business license, it's time to start marketing your services. Make sure to adhere to all local regulations and provide accurate information about yourself and your staff members on the application form. A PRO expert can help you in ensuring all the completion of your documents with approvals