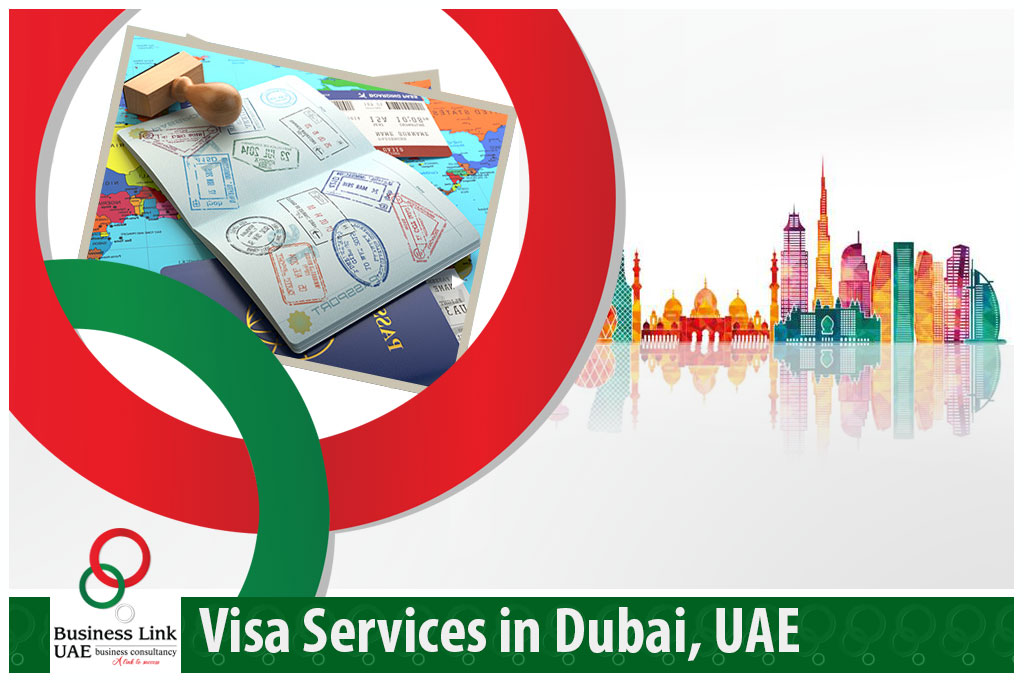 Visa Services Dubai
Visa Services in Dubai, UAE
At Business Link UAE our dedicated team of consultants has many years of experience in handling all types of PRO services in Dubai and visa processing. With up-to-date knowledge of rules and regulations of immigration, we specialize in different aspects of visa applications such as family, employment, investor, housemaid or nanny visas.
Business Link UAE, a leading business consultancy based in Dubai supports our clients on their visa services Dubai requirements.
There are various types of visas available under UAE law, and it always depends on the visitor's entry purpose to determine which type of visa one should apply for. Moreover, the prerequisites and documentation procedures can be varied from one visa service to another.
We provide professional and economical visa services Dubai for family or residence visas, employment, investor, housemaid or nanny visas.
In the United Arab Emirates (UAE), there are a number of different types of visas which are applicable to you depending on your reason of staying within the country. These are:
Tourist / Visit Visa
We Process Only for Clients who try to set their Business in DubaiThis visa allows you to travel and visit the UAE up to a maximum of 30 days before renewal is requested.
Residence / Family Sponsorship Visa
If you have family relations here within the UAE, you are allowed to obtain a residential visa which is subject to certain requirements regarding the individual itself.
The residents of the United Arab Emirates can bring their spouses, parents, and children depending on the rules and regulations of the respective Emirate. However, as per the UAE government, there are certain requirements need to be satisfied regarding their designation, monthly salary and other rules depend on individual circumstances. At Business Link UAE we understand your concern to bring your dependents in Dubai and we help you through the complete procedures until you obtain your residence visa. Family or residence visa can be obtained for spouse and children but there are some special applications required to sponsor other relatives such as parents or siblings.
Employment Visa
For job-seekers seeking better career prospects in Dubai, an employment visa will be your ticket towards a successful application within the local industries.
For all foreign nationals seeking employment in UAE registered companies require employment visa to work here. The employment visa requires approval from the UAE Ministry of Labor and Social Affairs and it is issued by the Immigration Department. At Business Link UAE, we support our client's for corporate visa processing. We provide services for all UAE companies to process employment visas in UAE for their employees. Our professional team specializes in obtaining and processing employment visas for large and small companies. Moreover, we assist you in completing the formalities of Medical and stamping employee's residence visa.
Investor / Partner Visa
This specific visa is required by prospective new business owners or investors looking to partake within the local economy and markets. This respective visa is where you will be looking to obtain in order to incorporate that new company setup in Dubai.
The UAE government offers investor visa that entitles the holder to live and work in the UAE for up to three years. An investor visa is a good option for foreign nationals seeking to establish their own business or to invest in an existing business in the UAE. In order to get an investor or partner visa, you must first pre-qualify and may be required to submit some security deposit. Business Link UAE specializes in obtaining and processing investor or partner visas.
Mission Visa Dubai, UAE
Mission visa allows UAE companies to hire expat employee for 6 months project so that employee can come to UAE and work for a short period of time with the UAE Company. It is a kind of 6 months employment visa for business purpose and will be issued by UAE employer with whom employee is supposed to work. We assist UAE companies to apply and get mission visa for business purpose, so that expat employee can come to UAE and work with them.
Housemaid / Nanny Visa
For people looking to work as a housemaid or even a day-care nanny, this visa permits them under a local sponsor or employer.
Sponsoring a maid or nanny is open to families living in Dubai. However, there are certain criteria and formalities for sponsoring a housemaid visa and the rules vary from one Emirate to another in the UAE. Families require professional assistance, who can guide them through the complete process. Business Link UAE specializes in the clearance of housemaids or nanny visas. With proper management, we submit the application and contact for the completion of the overall process. We support families for their maid's medical checkups, Emirates id and residence visa stamping for the smooth execution of maid visa processing.
For more information contact us at 00 971 556070118 or email us to info@businesslinkuae.com.