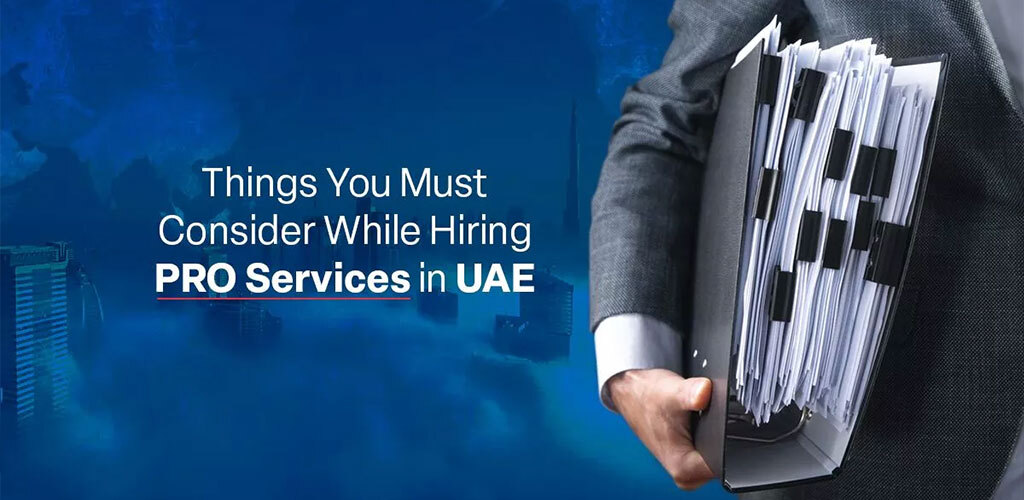 Setting up a business or expanding operations in the UAE is an exciting opportunity, full of potential. However, what many entrepreneurs and investors fail to recognize at the beginning is that it can be a complex process to meet legal and administrative requirements. This blog is a guide to help you understand the process and introduce to you – your savior, PRO services. They play a crucial role in helping businesses navigate the bureaucratic landscape efficiently. However, selecting the right PRO service provider requires careful consideration. In this blog post, we will discuss the key factors you should consider when hiring PRO Services in the UAE.
Professionalism:
One of the foremost considerations when selecting a PRO service provider is their expertise and experience in dealing with UAE regulations and government authorities. 
Ensure that the company you choose has a team of experienced professionals who are well-versed in the local laws, procedures, and documentation requirements. This knowledge will enable them to handle your company's specific needs effectively and efficiently.
Services:
Another crucial factor to consider is the range of services offered by the corporate PRO services in Dubai or any emirate you choose to set up in. As each emirate has slightly different rules, resulting in different services. 
Assess your business requirements based on the market and emirate you set up in and make sure the service provider can fulfill them. Some common PRO services include visa processing, company formation, trade license renewal, document attestation, labor contract processing, and more. Opt for a provider that offers a comprehensive range of services tailored to your specific needs like Business Link. We provide an extensive range of services customized to meet the needs of every individual and their business. 
Reputation:
Before finalizing a PRO, it is essential to research its reputation and reliability. Look for testimonials and reviews from other businesses that have used their services. A reputable PRO company will have a track record of delivering reliable and efficient services. 
Consider their response time, attention to detail, and ability to meet deadlines. This will give you confidence in their ability to handle your company's requirements smoothly.
Cost-Effectiveness:
While cost should not be the sole determining factor, it is important to consider the pricing structure of the PRO service provider. Compare the prices offered by different companies and evaluate whether they align with the services provided. Be cautious of exceptionally low-cost services, as they may compromise on quality or fail to deliver the expected level of support. Aim for a balance between affordability and quality of service.
Flexibility:
As your business grows or faces new challenges, the requirements for PRO services may change. Choose a service provider that demonstrates flexibility and adaptability to meet evolving needs. They should be able to provide scalable solutions and adapt to changes in regulations or procedures without causing disruptions to your operations.
Hiring PRO services in the UAE can significantly simplify the administrative processes involved in establishing and operating a business. By considering the factors mentioned above, you can make an informed decision when choosing a PRO service provider. 
Remember, the right PRO partner can streamline your business operations, ensure compliance with local regulations, and save you valuable time and effort in navigating the UAE's administrative landscape.