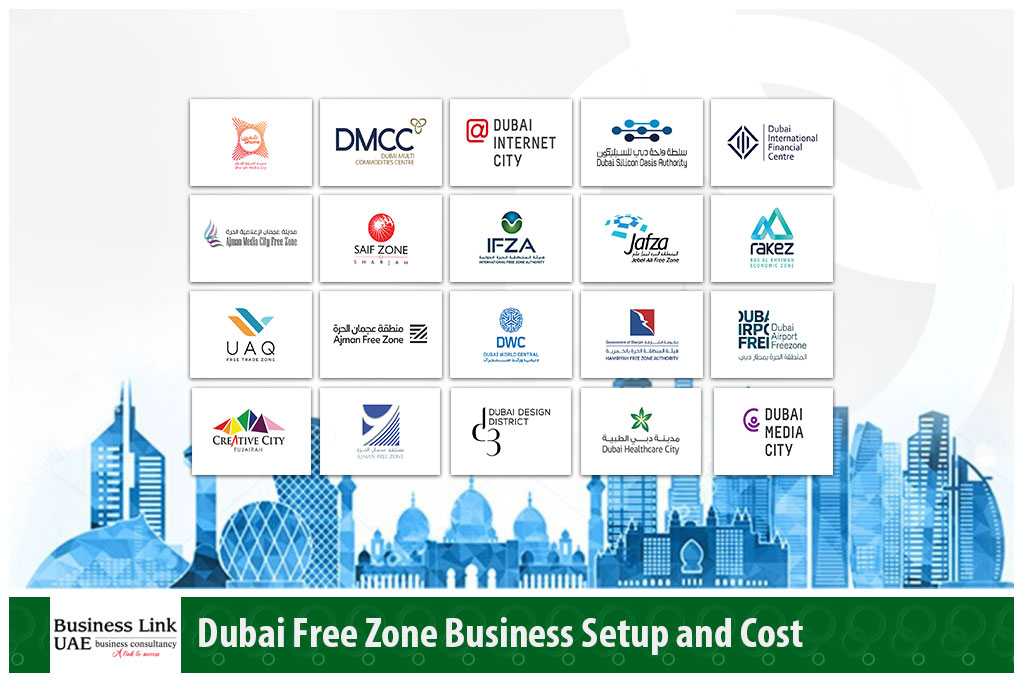 Dubai Free Zone Business Setup and Cost
Starting your business in Dubai under free zone is one of the easiest ways to set up because there is minimum paperwork; minimum setup cost and also offers you an environment to grow quickly. Some basic terms to setup a business in Dubai are
Find out your legal entity
Get your unique name
Apply for a business license
Get an office space
Get pre-approvals and register your business and then grab your business license.
Legal Entity:
There is a no. of entities and each entity, so you should confirm first that under which entity your business will be. In the free zone, you can set up 2 types of companies
Free Zone Limited Liability Company (FZ LLC)
Free Zone Establishment (FZE)
The difference between those companies and types of entities depend on no. of shareholders or legal ownership of the person. So, you need to check under free zone individual free zone authorities about your company type.
Choose a Trade Name:
While choosing your business type and under which entity it will go, you should also need to choose your unique trade name, which becomes your business identity.
Free zone authority or Department of Economic Development will allow you the trade name and also let you know that specific name already registered or not.
Here are some key requirements for the trade name according to the Department of Economic Development and Free Zone authorities
The name will be relevant to public morals and country
Must follow all legal form requirements for a company like LLC, FZE, DMCC, etc
Must not be registered previously
Should be compatible with all required activities and legal status
Should not be on the name of any specific body, government authorities and should not be related to any religious thing
Apply for Business License:
The type of business license depends on your business nature because different business comes under different authorities like DIFC, DMCC, etc
Some business licenses are:
Commercial/trade
Consultancy/services
Industrial
Educational
Media
eCommerce
Offshore
Freelancer
Warehousing
Manufacturing.
In DMCC, you can select from around 20 sectors such as energy, healthcare, technology, gold, diamond, professional services, financial services, etc.
In DIFC, you can select only from financial and non- financial business. Financial business like a bank, capital markets, insurances, etc. and non-financial like shop, hotels, academies, galleries, etc.
Choose an Office Space:
Office requirements depend upon no. of employees, business type. You can own an office in a free zone or also on lease.
Also, office accruing depend according to the location in Dubai like in DMCC, you can get a flexi desk or office from 200-500 sq. m. But at the Dubai Airport Free Zone, you can buy offices according to office packages.
Get Initial Approval, Register your Business and Get License:
To make it happen, it will include submission of all necessary documents, list of documents according to business activity, the type of company, etc.
Initial Approval
Completed application form
Business plan
Copy of existing trade license or registration certificate (if you are an existing company, applicable for a local company only)
Color passport copies of the company's shareholder/s and the appointed Manager/Director for the new company
Specimen signature of the company's shareholder/s and the appointed Manager/Director for the new company
2 years' audited financial reports for the corporate entity or certificate of reference from a personal bank of the individual shareholder
NOC from current sponsor (for individuals)
Unit title deed
Letter of Intent
Registry Identification Code Form (RIC) for Manager/Director (Original and notarized)
For freelance permit, you need to submit
Registration Application
Applicant CV
Bank Letter (Reference)
Form for registration ID code (Original and Notarized)
Registration Process
After getting approval for the initial license, you need to process with the registration process and pay registration and business license fee and all required documents must be Notarized and attested by a legal person.
Registration application form.
Board Resolution appointing Manager/Director
Power of Attorney owner to Manager/Director
Memorandum and Articles of Association
Signature of Manager/Director
Passport-size photo of Manager/Director with white background
Required Capital Information
Licensing and VISA Process
Authority will prepare and approve the lease agreement.
Authority will issue a trade license.
After all process, the VISA process will start and also handled by authorities.
Cost For Free Zone Business Setup:
| | |
| --- | --- |
| Service | Fee |
|   Free Zone Company Formation (FZCC) |   Starting from 17500AED |
|   Rental Cost |   (Included FZCC) |
|   Smart Desk |   (Included FZCC) |
|   Office Units |   (Included FZCC) |
|   Permanent Office |   (Included FZCC) |
|   Free Zone License Fee |   (Included FZCC) |
|   Free Zone Registration Fee |   (Included FZCC) |
|   Share Capital Requirements |   (Included FZCC) |
|   Free Zone Visa Fee |   From 5000 to 7500 AED |
|   Bank Guarantee for Free Zone |   (Included FZCC) |